I googled jaded. I always understood it to mean cynical, but that's not really what it means. It means lacking the ability to be enthusiastic.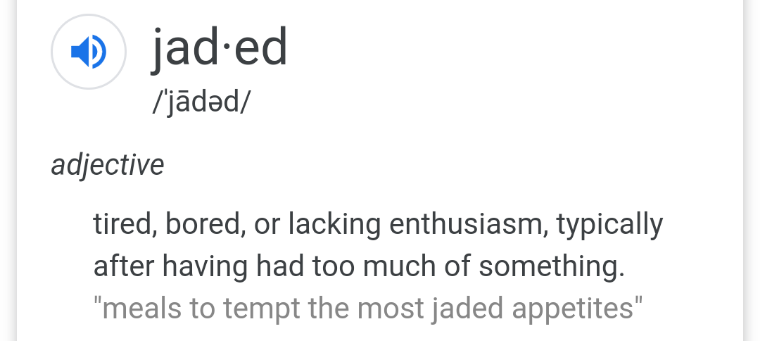 This morning I was meditating and my spirit guide gave me some wisdom. She reminded me of my son Jeremy. Before I had Jeremy I had 3 pregnancy losses. The first time I got pregnant I was young and naive. I didn't expect anything to go wrong. I still remember the way I felt when I miscarried. The second time I was cautiously optimistic. The third time I got pregnant I thought this can't possibly go wrong. What are the odds.
The fourth time I got pregnant with my son Jeremy, I didn't get excited. I wasn't hopeful. In fact, I was certain he was going to be another miscarriage. I had heavy bleeding during the first 12 weeks of my pregnancy. I had no reason to expect that his pregnancy would go better than the ones before. I was jaded. It's a feeling a little different than hopelessness. I wasn't enthusiastic or excited. Those days of blissful excitement were over.
What I learned from this experience was that I loved my son in a more appreciative way when I had him. I was grateful and treasured him. I went into his pregnancy with no enthusiasm, no expectations of a happy ending, and when he was born I couldn't take my eyes off of him.
Why am I sharing this? The universe told me there is joyfulness that comes after being jaded. Maybe you don't go into things with the woosh of your heart, maybe your expectations are exceedingly low, maybe you can't be excited anymore, maybe the universe is preparing you… For something amazing.
This was written for me.